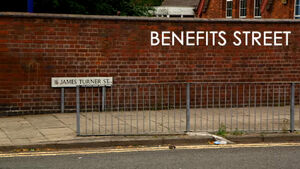 Benefits Street was a Channel 4 documentary/reality series that debuted in January 2014. Using a format consisting of a narrator speaking over fly-on-the wall documentary footage, it examined the lives of British citizens who were living on the dole, and sought to understand their varied reactions to being in that situation.
The first series of five episodes generated both controversy and significant British media attention. It sparked a nationwide debate about welfare reform, and several filmed political debates followed on after the series. The success of the show prompted Channel 4 to quickly order a second series.
Ad blocker interference detected!
Wikia is a free-to-use site that makes money from advertising. We have a modified experience for viewers using ad blockers

Wikia is not accessible if you've made further modifications. Remove the custom ad blocker rule(s) and the page will load as expected.